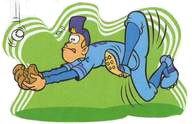 CONGRATULATIONS TO THE 2009 CHAMPIONS! ACTIVE INTERNATIONAL (2009 Summer LEAGUE A CHAMPIONS) HUDSON VALLEY HAYMAKERS(2009 Summer League B CHAMPIONS) IRELAND'S 32 (2009 Summer Tournament Winners) HEAVY HITTERS (2009 FALL LEAGUE CHAMPIONS)

REGISTRATION for the 2010 SUMMER LEAGUE is NOW OPEN!! The season starts the second week in April. Please contact the League with your registration information. See below for contact info.

Team: $1695
Individual: $165

Registration will remain open until March 25th or until we are FULL, whichever occurs FIRST!! But remember..... space is limited ... Don't lose a spot because of delay in registering!
The season will begin the first week in September!

League Office:
Rockland Coed Softball League
119 Rockland Center #288
Nanuet, NY 10954
(845)664-8059
coedman@netzero.net

NOTE: The Rockland Coed Softball League does not have any control over the pop-ups, advertisements, or search bars that pop up while you are on the site. This is a service of Tripod, and cannot be disabled. We apologize for any inconvenience.